Design with personality, wireless charging, stabilized main camera, 10-bit panel, Dolby Atmos, 8 GB of RAM, good vibration system…
In a first impressions article, he said that Motorola's new Edge 30 series represents a turning point for the brand, both in build quality and design, as well as in the features of its new mid-range, high-end and premium phones. After a month using the Motorola Edge 30 Neo as a personal phone, I can only confirm those first feelings.
The cheapest model of the Edge 30 series stands out for its careful design, its screen without frames and a range of features that are difficult to find in other phones in this price range. The Moto Edge 30 Neo also makes some sacrifices to reduce costs, but comes out on top as one of the candidates for the best compact phone of the year.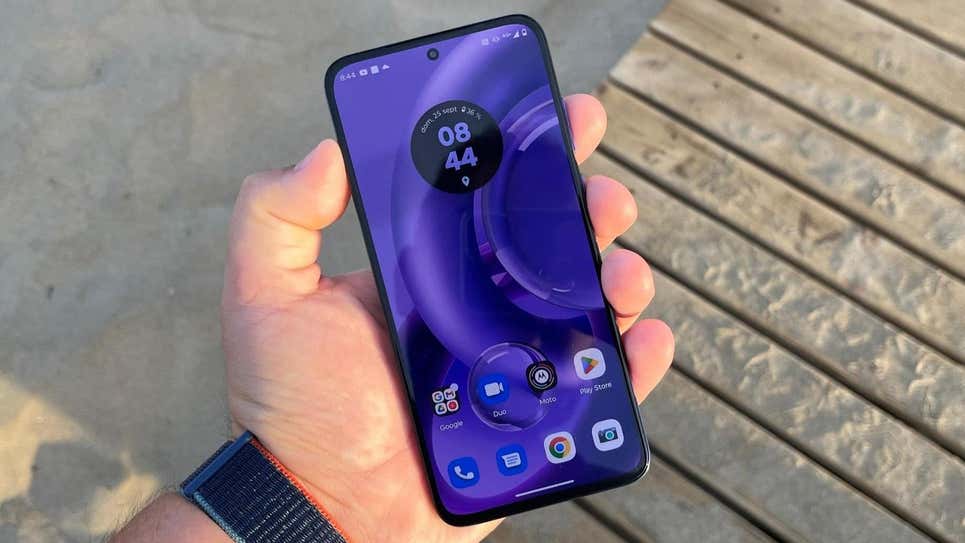 Pantone color and reduced size
A song by Morad says that tough guys wear Motorola, but it's impossible to feel like a tough guy with a phone as stylish and colorful as the Moto Edge 30 Neo. The color is the claim on which all the marketing of this new Motorola revolves. The brand has signed an exclusive alliance with Pantone, known for its color identification system, but also for its consulting role. The Pantone Color Institute annually predicts the colors that are going to be in fashion and helps other companies to follow the trends.
As a result of this alliance, the Motorola Edge 30 Neo is the only phone that can be purchased from Very Peri, a striking color halfway between blue and purple that was listed as Color of the Year 2022 by Pantone. This is the model that I have tried, although there are other more discreet variants: the Ice Palace silver, the Black Onyx black and the Aqua Foam green. Matter of taste, I suppose.
As tall as a hand and very slim, but without the curved edges that characterize the rest of the Edge series, the 30 Neo can be defined as a compact device. That a 6.28-inch phone seems compact to us is almost a delusion, and the Moto Edge 30 Neo achieves the hoax with its lightness (barely 155 grams), its thin bezels (95.6% of the front used) and its format elongated (20:9 aspect ratio), which makes one-handed use much easier.
The Motorola Edge 30 Neo is very comfortable to wear compared to other mid-range bricks. Carrying it both in your pocket and in your hand is a joy, and I've been missing it ever since I've gone back to a bigger phone. Another feature that stands out compared to other phones in this range is its frames. At these prices we tend to see pronounced chins under the screen, but the Moto's screen borders are thin and symmetrical.
Both the chassis and the back cover are made of plastic, with a rough touch that makes it easier to grip, but which personally gives me a bit of setbacks. It is not that I have touched it too much, yes, because the phone comes already in the box in a case: a transparent hard shell that reveals the Pantone color. It is not a submersible terminal, but it has IP52 protection against dust and splashes.
As for the color, it is identified with a sticker, a Pantone chip on the bottom of the back cover of the phone. A curious detail that takes away from the real useful addition to the back of the mobile: the band of notification LEDs that surrounds the camera module. It lights up in different ways when you get calls or alerts, and replaces what Motorola does with the curved edge of the screen on the more expensive Edge 30 series models.
Outstanding screen and sound
I have to confess that I like screens with saturated colors, and the Motorola Edge 30 Neo has managed to enthrall me. With deep blacks from pOLED panel technology and bright, vivid colors, this 10-bit deep, DCI-P3 color space display doesn't look mid-range. It should be noted that there are two calibration options: Natural, with more muted and precise colors, and Saturated, the one I have chosen, with greater intensity.
Other outstanding features of the panel are the maximum brightness of 1000 nits, which allows comfortable use of the phone outdoors, or the density of 419 pixels per inch (resulting from a resolution of 2400 by 1080 pixels on a 6.28-inch diagonal). Lastly, a 120Hz refresh rate makes animations smoother, and a 240Hz touch response makes the phone react faster.
But the multimedia experience of the Motorola Edge 30 Neo goes beyond the screen with truly amazing sound. Two stereo speakers and a very high volume that doesn't distort the audio are my favorite things about this phone. It doesn't just sound loud, it sounds good, with bass present (without performing miracles), crisp highs, and clear vocals; adding as icing on the cake multidimensional sound support with Dolby Atmos technology.
Another section in which the Moto Edge 30 Neo is a little above other mid-range terminals is the vibration system, which without being a haptic motor like those of premium phones, feels less rough.
Minimal Android and Motorola gestures
The house hallmark of My UX, Motorola's interface, is that it barely touches stock Android, and that's a decision I welcome. The Moto Edge 30 Neo runs Android 12 with a few handy additions and very few cosmetic tweaks, including a couple of custom widgets and the option to change interface colors to Pantone phone colors. By default, the Edge 30 Neo in Very Peri comes with a purple theme, purple wallpaper, and a purple clock widget.
Perhaps the most characteristic of Motorola are the gestures, which are explained in the Moto application. My favorites are turning on the flashlight by shaking the phone twice (incredibly useful) and opening the camera by twisting your wrist twice, even if the phone is locked, but there are others just as handy that you can enable, like double tapping the back to open an app of your choice or turn the phone face down to activate Do Not Disturb mode.
Like any other modern Android, the Motorola Edge 30 Neo lets you choose between classic Android buttons and navigation gestures. Give gestures a chance because, unlike other manufacturers, Motorola has them very well resolved. One thing that annoys me about other Android phones is that you have to swipe in a very straight path or from the very bottom edge of the screen to get back to the home screen. On the Motorola, gestures feel more natural and fluid to me.
One of Motorola's most touted software features is Ready For, which on the Neo only works wirelessly and basically allows screen mirroring on TVs with Miracast support (for example adding a Bluetooth controller to play games on a big screen).
More interesting is Ready For PC, which allows you to stream applications or share the Internet, files and clipboard with a Windows 10 or Windows 11 PC. It requires the download of the application for PC and that both devices are connected to the same Wi-Fi network. or via a USB-C cable.
With the processor the cuts begin
Until now you have only read praises about this Motorola, but somewhere I had to cut the brand to get a balanced price phone. Unlike other mid-range that throw the house out the window with the processor, the Motorola Edge 30 Neo carries a legitimately mid-range chipset: Qualcomm's Snapdragon 695 5G.
The performance of the Snapdragon 695 is, in my experience, perfect for light phone use (ie: social networks, browser and camera). Accompanied by 8 GB of RAM and up to 256 GB of storage, both the CPU and the GPU do their job without breaking a sweat, until the tasks get complicated.
With more demanding, less optimized applications (or many apps open in the background), the animations start to slow down. And with the games we begin to see the seams in the graphics.
We cannot say that this phone is for gamers, despite the 120 Hz refresh rate and 240 Hz tactile response, but we can say that it is the first time in the analysis that we confirm that we are dealing with a mid-range phone.
Cameras with lights and shadows
With the camera system of this Motorola Edge 30 Neo I have mixed opinions. It comes with two rear cameras (good for Motorola for not putting a useless 2 MP depth or macro sensor typical of the mid-range), a 64 MP f1.8 wide angle with optical stabilization (OIS), and an ultra wide angle 13 MP f2.2 that acts as a macro.
My feeling is that the main sensor, with four pixels in one of 1.4 μm, takes good photos that are often ruined by image processing. The dynamic range is poor and sometimes you have to lower the exposure so that the photo does not get burned by the highlights. I also don't really like the cool, washed-out colors of some HDR shots, but the detail can be surprising when the photo comes out right, thanks to OIS, I suspect.
The ultra wide-angle camera is average, with poor definition indoors and little use at night, but acceptable during the day and for macro photography.
Automatic photo with wide angle:
The front camera, 32 MP f2.4 Quad Pixel and with autofocus, is the same as the main one. Good sensor, improved processing. Like many Chinese manufacturers, Motorola (owned by Lenovo) prefers to sacrifice photo detail in exchange for a clean face like a baby's bottom, even if the beauty effect is turned off.
As a fun fact, the Motorola Edge 30 Neo cannot record at 4K, and is limited to 1080p 60fps. The results are typical of a mid-range Android and suffer from a lack of stabilization, despite the OIS.
Wireless charging, another rare bird
In battery and connectivity, the Motorola Edge 30 Neo does not have many buts. Dual SIM, Bluetooth 5.1, NFC with mobile payments, 5G and something difficult to see in the mid-range: wireless charging.
The 4020 mAh battery is limited by the size of the phone, but either the Snapdragon 695 is efficient or the Motorola is highly optimized because it discharges very slowly in the background, which helps it last all day.
Depending on the apps you have running, you can get between four and six and a half hours of screen time. And it comes with a 68W TurboPower charger included in the box. The power adapter (with USB-C socket) is compact enough to carry in a bag, and can charge the phone from 0 to 100 in 40 minutes.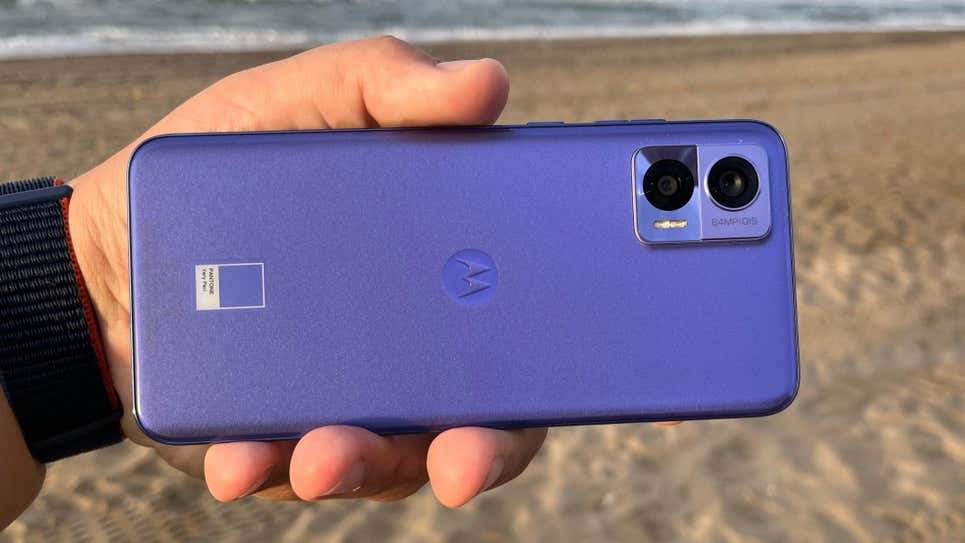 Conclusions and price
The Motorola Edge 30 Neo is a phone with personality that stands out in some sections such as the screen and sound. It is very comfortable to use thanks to its size and it has things that are not usually seen in this range: good design, wireless charging, stabilized main camera, 10-bit panel, Dolby Atmos, 8 GB of RAM, good vibration system… I think this does not spiritually compete with cheaper mid-range phones, but with, shall we say, more aspirational phones like the Pixel 6a or Nothing Phone 1.
It does not have it easy, since it starts from a recommended price of 399 euros, and I suspect that its success will depend on the operators and distributors with which the brand reaches agreements. For now there is an active offer on the Motorola website: a free Lenovo Smart Clock with wireless charging base when you buy the phone.